GraphCombEx: Graph Combinatorial Explorer
GraphCombEx stands for Graph Combinatorial Explorer: a software for exploration of combinatorial optimization properties of both real-world and synthetic complex networks.
Introductory Paper

arXiv
Chalupa, D., Hawick, K. A.
GraphCombEx: A Software Tool for Exploration of Combinatorial Optimisation Properties of Large Graphs. ArXiv e-prints, arXiv:1801.09229.
Principles
light-weight, memory efficient;
cross-platform (Windows, Unix, Mac);
developed and released as a Qt project;
supports a variety of combinatorial properties and metrics.
Features
support for handling undirected graphs with millions of edges;
tested on various networks: social networks, biological data, scheduling networks and many more;
metrics supported include: the number of triangles, connected components, diameter of the main component;
combinatorial properties supported include: intervals for maximum clique, independent set, dominating set, longest cycle;
network visualisations: centrality-based, grid-based, tree-based, circular.
Screenshots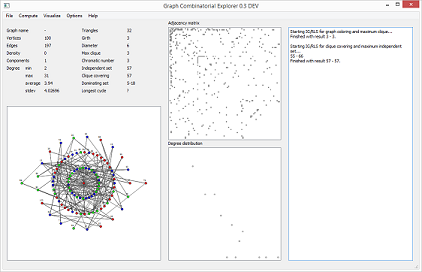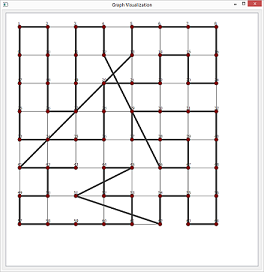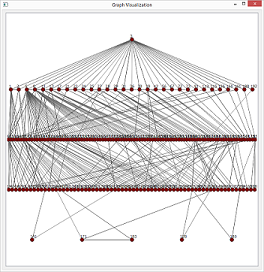 Source Code Repository
https://github.com/davidchalupa/GraphCombEx
Disclaimer: GraphCombEx is distributed in the hope that it will be useful, but WITHOUT ANY WARRANTY; without even the implied warranty of MERCHANTABILITY or FITNESS FOR A PARTICULAR PURPOSE.